Archives - Avtomoto
Dunlop launches a brand-new range of SP346 and SP446 trucks tires offering high mileage, better fuel efficiency, strong traction and exceptional durability. A total of 20 new tyres in all are also intended for electric and hybrid vehicles. The new range of truck tires consists of the SP346 steer tire...Read this article...
As of 15thof March, the use of winter equipment is no longer obligatory on Slovenian roads, but some drivers have not yet decided to change tires. Goodyear's experts advise the use of summer tires and emphasize significant performance advantages in comparison with winter tires. Summer tires provide more safety at...Read this article...
In collaboration with Klairmont Kollections museum, Goodyear unveiled the restored Golden Sahara II autonomous vehicle at the 2019 Geneva International Motor Show. An iconic custom car of the 1950s and 60s, the Golden Sahara II was one of the first concepts of autonomous vehicles and was fitted with glowing, see-through...Read this article...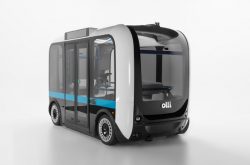 Goodyear is being named the exclusive tire supplier for a leading autonomous passenger shuttle Olli, created by the renowned American company Local Motors. Olli, a shuttle bus without a driver, is considered a leading vehicle in the field of autonomous passenger services. The Goodyear Tire & Rubber Company upgrades the...Read this article...