Archives - Business
Since 1991, the independent Top Employers Institute from the Netherlands has been awarding certificates to confirm the excellence of HR practices. This year's award was received by four Slovenian employers, including Tobačna Ljubljana, which received two awards - Top Employer Slovenia and Top Employer Europe. In addition to all this,...Read this article...
The use of mobile internet has become a part of everyday life, and PCs, laptops and tablets have gradually made way for mobile devices as the first and main point of contact with the web and digital channels. This also became the reality in Slovenia last year as the number...Read this article...
This year's holiday December atmosphere will again be enjoyed by mobile phone users and especially those with daily high data usage. Telemach's mobile packages now offer up to 80GB of data transfer on the domestic network. There is no secret that users often chose their operator based on the amount...Read this article...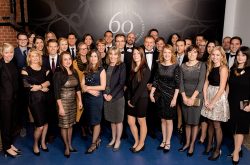 Jadek & Pensa, one of the leading law firms in Slovenia, celebrated its 60th anniversary of successful business at home and internationally. Their jubilee, which took place just a month after the 150th anniversary of advocacy in Slovenia, made them celebrate the achievements of the past, and also emphasize their...Read this article...