Archives - Social responsibility
Adding to the excitement of the first day in school, SPAR wanted to fill the school bags of a hundred of primary school pupils from socioeconomic vulnerable families throughout Slovenia, thus enabling them to start a new school year. In cooperation with the social services and the Association of Friends...Read this article...
On Saturday, 21 April 2018, the 27th traditional cleaning of Ljubljanica was held, cleaning the river from Špica to Three Bridges (Tromostovje). This was the closing event of the spring cleaning campaign called For a More Beautiful Ljubljana, held on the weekend of the Earth Day. This year, the Slovenian...Read this article...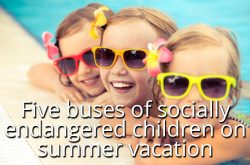 This summer, the humanitarian project of 'Winking to the sun' takes five buses of children from socially vulnerable families as well as those with special needs to experience the holiday at sea. In cooperation with the Slovenian Association of Friends of Youth and the OMV loyalty club members, OMV Slovenia...Read this article...
By the year 2050, more than two thirds of the world's population is expected to live in cities, so traffic network needs in urban areas are expected to increase significantly. Goodyear predicted a solution with the new concept tire of Oxygene – using it would improve air quality. Goodyear's latest...Read this article...