Archives - May
Although you don't know much about rocket science, you will be impressed by this innovative SOLARBOOST running shoe model, created in adidas Running. It is inspired by NASA engineering, and distinguished by its pure functionality and incredible performance. The Tailored Fibre Placement technology allows us to take full advantage of...Read this article...
We go nowhere without a mobile device, but it doesn't really benefit us anymore if we are not online. Data transfer is, therefore, in many cases the first thing set when reviewing mobile packages. Telemach once again proved that data transfer is at the heart of their mobile packages. The...Read this article...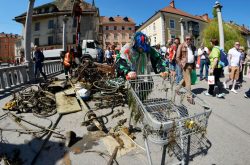 On Saturday, 21 April 2018, the 27th traditional cleaning of Ljubljanica was held, cleaning the river from Špica to Three Bridges (Tromostovje). This was the closing event of the spring cleaning campaign called For a More Beautiful Ljubljana, held on the weekend of the Earth Day. This year, the Slovenian...Read this article...