Archives - March
On Saturday, March 23, members of the Slovenian Diving Federation organize the 27th DRAVA 2019  eco-cleansing campaign titled "We care" in cooperation with Maribor rafters. The campaign is also supported by SPAR Slovenija, which - within its socially responsible "Thinking EKOlogically" campaign - aims to promote sustainable thinking and the...Read this article...
Zlatarna Celje offered the highest amount for the signed jersey of Luka Dončić at the charity auction of the Viljem Julijan Fund, intended for helping children with rare diseases and making their lives easier. On the Rare Disease Day, a charity auction took place at the Viljem Julijan Fund in...Read this article...
In collaboration with Klairmont Kollections museum, Goodyear unveiled the restored Golden Sahara II autonomous vehicle at the 2019 Geneva International Motor Show. An iconic custom car of the 1950s and 60s, the Golden Sahara II was one of the first concepts of autonomous vehicles and was fitted with glowing, see-through...Read this article...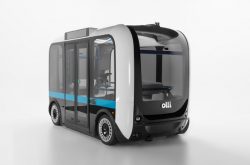 Goodyear is being named the exclusive tire supplier for a leading autonomous passenger shuttle Olli, created by the renowned American company Local Motors. Olli, a shuttle bus without a driver, is considered a leading vehicle in the field of autonomous passenger services. The Goodyear Tire & Rubber Company upgrades the...Read this article...