Archives - June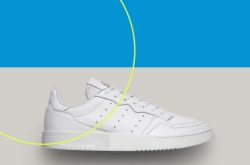 At the beginning of summer, adidas Originals presents a refreshed model of Supercourt sneakers, the latest in a series of white timeless classics. With its minimalist design and white leather, this silhouette combines 50 years of adidas court experienceand modern design guidelines, becoming indispensable for all generations, fashion styles and subcultures....Read this article...
OMV is launching a new convenience product. From the beginning of May 2019, the new VIVA iced coffee in the two flavors Cappuccino and Café Latte is available at all OMV filling stations. The new VIVA product label is designed to primarily meet the needs of mobile costumers, as it embody...Read this article...
Goodyear's newest all-round summer Eagle F1 Asymmetric 5 tire proved its excellence in this year's summer tire tests. It was awarded the first place and left all the competition behind in the comparative tests of the prestigious Auto Bild allrad magazine by delivering the shortest combined braking distance on dry...Read this article...
Goodyear will re-enter international sportscar racing by developing a new range of tires for the FIA World Endurance Championship (WEC). The tires will debut at the start of the 2019/2020 WEC season at Silverstone in August, and the peak will be its return to the Le Mans season finale, a...Read this article...