Archives - Avtomoto
In June, three epic races were held in three consecutive weeks: the Isle of Man TT motorcycle spectacle, and the legendary endurance races of Le Mans 24 hours and 24 hours Nürburgring. In the heart of these racing epics, there is a desire to push the limits of possible; therefore...Read this article...
All FIA European Truck Racing Championship entrants to exclusively race on Goodyear Truck Racing Tires for the next three years. With the start of the 2019 season, Goodyear is honoured to extend its partnership with the Federation Internationale de l'Automobile (FIA) as exclusive tire provider to the FIA European Truck...Read this article...
Goodyear presents its new end-to-end fleet offer called Total Mobility, which brings together innovative premium tires, smart technology for their monitoring and full-service network across Europe. It will simplify daily operations and decrease operational costs. The digital economy in transport and logistics sector requires faster, more reliable and cheaper delivery...Read this article...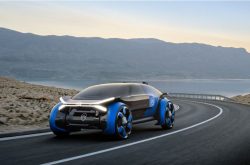 Goodyear created a special C100 concept tire, that was specifically designed for the Citroën 19_19 concept electric vehicle, which marks the Citroën's 100thanniversary. The C100 concept tire is envisaged to deliver the comfort and smart performance this unique vehicle requires. Goodyear's C100's unique design and innovative features are specifically designed...Read this article...