Archives - Avtomoto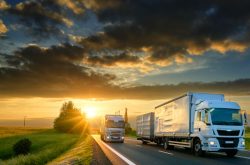 The Chamber of Craft and Small Business of Slovenia and OMV Slovenija have concluded an agreement on business cooperation. The strategic cooperation is concluded for the next two years and represents the basis of OMV Slovenija's support of the Transport Section at the Chamber, which helps its more than 3,000...Read this article...
Some of the fastest chargers in Europe are now available for customers at OMV's filling station at Ilirska Bistrica. These are the first HPC (high power charging) chargers with 350 kW out that offer cutting-edge technology for charging electric cars in Slovenia, but also in the whole Eastern European region...Read this article...
In June, three epic races were held in three consecutive weeks: the Isle of Man TT motorcycle spectacle, and the legendary endurance races of Le Mans 24 hours and 24 hours Nürburgring. In the heart of these racing epics, there is a desire to push the limits of possible; therefore...Read this article...
Dunlop launches a brand-new range of SP346 and SP446 trucks tires offering high mileage, better fuel efficiency, strong traction and exceptional durability. A total of 20 new tyres in all are also intended for electric and hybrid vehicles. The new range of truck tires consists of the SP346 steer tire...Read this article...