Archives - Avtomoto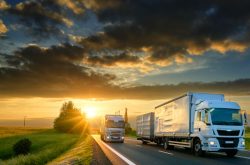 The Chamber of Craft and Small Business of Slovenia and OMV Slovenija have concluded an agreement on business cooperation. The strategic cooperation is concluded for the next two years and represents the basis of OMV Slovenija's support of the Transport Section at the Chamber, which helps its more than 3,000...Read this article...
Goodyear will test the material used in tire manufacturing as a part of a project of the International Space Station (ISS) U.S. National Laboratory. The knowledge acquired will help Goodyear scientists and engineers to further develop and enhance the passenger car tires performance. The Goodyear Tire & Rubber Company announces...Read this article...
Goodyear recently presented the brand new Eagle F1 SuperSport tire, announcing that the Eagle F1 SuperSport RS was selected as the No1 equipment of the Porsche 911 GT2 RS and the Porsche 911 GT3 RS supersport cars. The tire thus demonstrates its superior performance and marks the return of Goodyear...Read this article...
Some of the fastest chargers in Europe are now available for customers at OMV's filling station at Ilirska Bistrica. These are the first HPC (high power charging) chargers with 350 kW out that offer cutting-edge technology for charging electric cars in Slovenia, but also in the whole Eastern European region...Read this article...