Archives - Business
The use of mobile internet has become a part of everyday life, and PCs, laptops and tablets have gradually made way for mobile devices as the first and main point of contact with the web and digital channels. This also became the reality in Slovenia last year as the number...Read this article...
This year's holiday December atmosphere will again be enjoyed by mobile phone users and especially those with daily high data usage. Telemach's mobile packages now offer up to 80GB of data transfer on the domestic network. There is no secret that users often chose their operator based on the amount...Read this article...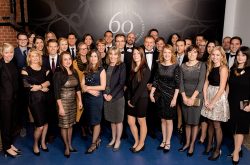 Jadek & Pensa, one of the leading law firms in Slovenia, celebrated its 60th anniversary of successful business at home and internationally. Their jubilee, which took place just a month after the 150th anniversary of advocacy in Slovenia, made them celebrate the achievements of the past, and also emphasize their...Read this article...
HEP Energy (HEP Energija) hosted the 4th get-together in Ljubljana, where the participants were given a unique insight into trends and expectations in the electricity market. Business partners and clients were offered professional advice, looked into the future of the industry and shared their own experiences. The energy power company...Read this article...