Archives - Sports & Leisure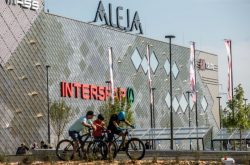 At the opening of Aleja shopping centre in Ljubljana, SPAR Slovenia has opened its 105th store in the SPAR and INTERSPAR retail chain. Modernly designed and customer-friendly INTERSPAR Šiška store offers a complete shopping experience, and a lot of attention was paid to energy saving in its planning and construction....Read this article...
Zaradi izrednih razmer so v podjetju SPAR Slovenija do nadaljnjega prestavili odprtje trgovine INTERSPAR Šiška v nakupovalnem središču Aleja v Ljubljani. Odprtje trgovine je bilo sicer načrtovano za četrtek, 19. marca 2020. Due to the state of emergency, the opening of the INTERSPAR Šiška store in the Aleja shopping centre...Read this article...
"Fast means not only competitiveness and performance, but a personal feeling of self-betterment and transformation," encourages adidas Running, hailing a new era of 'running' with the launch of its fresh new 'Faster Than' campaign. As part of the campaign, they introduced a unique and lightweight SL20 running shoe featuring Lightstrike...Read this article...
The legendary adidas Superstar is marking its round anniversary this year. Starting at the basketball court in 1969 and initially available only to a chosen few, it become indispensable in all spheres of urban life in the past 50 years. On the streets, it impressed hip-hopers and rappers, while pop...Read this article...