Skilful on parquet and safe on Internet
Today's generation of children and adolescents face many digital world challenges. A lack of physical activity plus traps of the web and social networks are certainly among the most burning issues. Telemach addresses both problems with its "Safe on Internet, safe in the world" project and a sponsorship of Goran Dragić's basketball camp. The sixth basketball camp for elementary school pupils, held between 23 and 29 June on Rogla, was upgraded this year with a workshop to give the children new knowledge and skills for the safe internet use.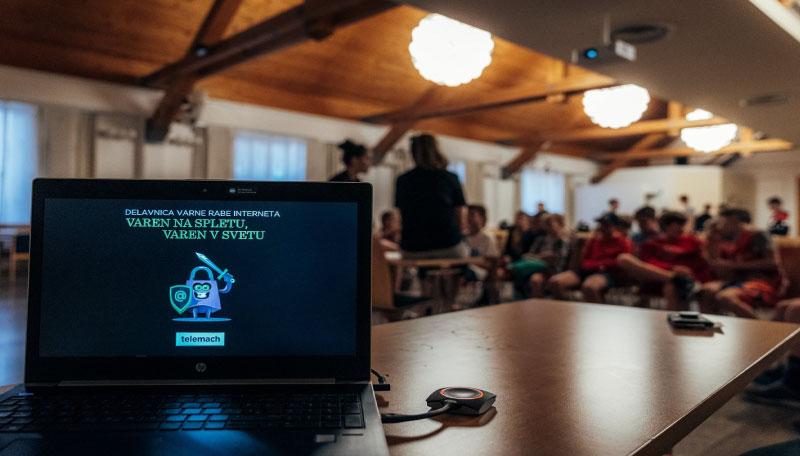 The fastest growing mobile operator in Slovenia launched a socially responsible project under the slogan "Safe on Internet, safe in the world" this year, informing the elementary school students about the advantages and dangers of the use of internet, and educating them how to act to avoid the dangers. In June alone, they reached over 200 children by visiting three schools and additional 55 at the workshop held at the traditional basketball camp of Goran Dragić.
Telemach proudly supports Gogi's camp, as many like to call Goran, for many years now in the context of the company's efforts for the development and success of Slovenian sport. Under the guidance of a professional sports and animation team, elementary school basketball enthusiasts were once again perfecting their basketball skills, developing their sporting spirit, and learning about the power of teamwork and the importance of a healthy lifestyle. An unforgettable sporting experience was complemented by many other interesting and educational contents.
From classroom to basketball court
In order to bring together the pleasant and the useful, Telemach prepared a safe internet use workshop for the young athletes. The demanding themes were addressed in a relaxed and entertaining way. After the introductory conversation about the use of the internet and social networks, the participants created their own posters in groups, writing down their unpleasant experiences online, learning how to create a secure password and concluding the workshop with a discussion about how to react in unpleasant online situations. The project, which was well accepted by the young basketball players, returns to the classrooms with the start of the new school year."I'm pleased that our long-standing partner Telemach not only helps in executing the camp, but also in enriching the back-up program. I find it extremely important to draw the children's attention to all the dangers that the use of modern technologies brings. I also found the workshop very interesting and got some new ideas about warning my own children," Goran Dragić commented the experience.
Similar posts