INTERSPAR Šiška opened in Aleja centre
At the opening of Aleja shopping centre in Ljubljana, SPAR Slovenia has opened its 105th store in the SPAR and INTERSPAR retail chain. Modernly designed and customer-friendly INTERSPAR Šiška store offers a complete shopping experience, and a lot of attention was paid to energy saving in its planning and construction.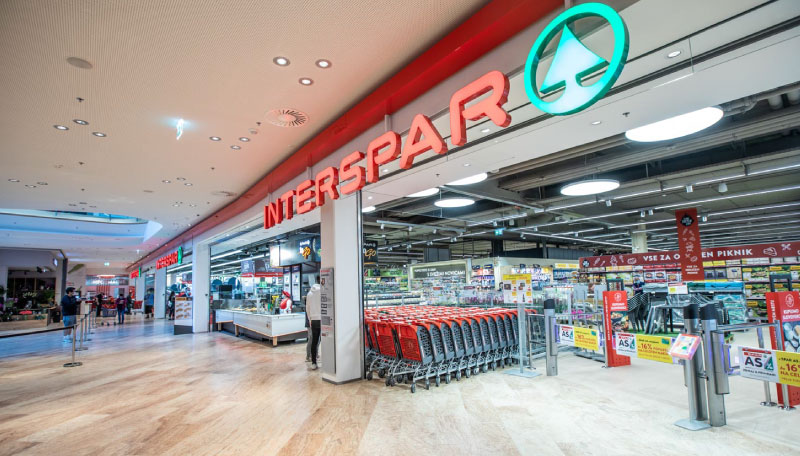 A total investment in construction and equipment of the INTERSPAR Šiška store in the Aleja shopping centre amounted to EUR 6.8 million. The store covers a total of 5,262 square meters, and over a 100 employeeswill take care of the needs of customers.
The INTERSPAR Šiška store in Aleja shopping centre has all the elements of modern construction and combines many thematically arranged departments: at the entrance, the customers are greeted by a well-stocked SPAR To Go program, which will delight especially the visitors with a fast lifestyle as it offers various fresh meals prepared right there at the store, such as pizzas, sandwiches, salads and desserts. The central part of the store is a delicatessen island with a diverse selection of salamis, cheeses as well as various meat and Mediterranean specialties. The modern Spar Bakery offers more than 90 types of delicious, freshly baked products as well as a self-service point that allows customers to pick and weigh their favourite bakery products on their own. Always freshly baked warm delicacies are complemented by a varied offer of over 40 types of bakery pastries and desserts. The Spar butcher's shop brings the customers some fresh meat of various suppliers and meat products prepared by SPAR, plus selected specialties from all over the world for special occasions. Seafood lovers will hurry to the fish market with a wide range of freshwater and sea fish, shellfish and frozen seafood. A true garden is found in the fruit and vegetable department, where the visitors are delighted by a colourful selection of fresh fruits and vegetables throughout the year, with special attention paid to BIO crops. The rich offer of the INTERSPAR Šiška store in Aleja shopping centre is complemented by the attractive Tchibo program of clothing, underwear and home products, as well as colourful departments with appliances, toys, office and school supplies, cosmetics and personal care, and cleaners. At the end of the purchase, eight modern self-service and ten classic cash registers are available to customers.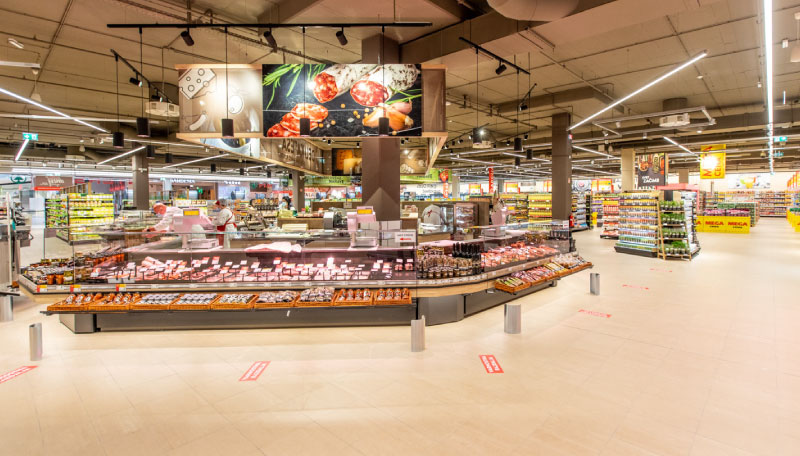 During the construction of the 13th INTERSPAR store, SPAR Slovenija placed great emphasis on thesustainable use of energy, which was ensured by energy-saving LED lighting, and closed refrigerators and freezers. They have installed the "System Transkritisch CO2" for heating and cooling, which uses waste heat to heat the warehouse and sublevel with office spaces and changing rooms for a 100 employees.
At the opening of the new INTERSPAR Šiška store in Aleja shopping centre, MSc Igor Mervič, general manager of SPAR Slovenija, said:
The customers always come first in Spar, so we had put a lot of effort into the new store to provide a state-of-the-art shopping experience. A wide choice will satisfy the wishes and needs of every customer, and the pleasant ambience and helpfulness of the employees will surely convince visitors to come back to our latest and long-awaited INTERSPAR Šiška store.
Similar posts