Archives - March
In general, the labour market is not most favourable to young people, which can be changed by individual companies being awarethat they can contribute to society themselves. One of these is the Propiar agency, the founder of the Apropó program connecting the young and the profession. This is our way...Read this article...
A certain number of communicators will always feel a pleasant thrill when they encounter a crisis communication. Perhaps due to solving the most difficult issues, working under time pressure or simply due to the adrenaline triggered by this kind of situations. Crisis communication is one of the public relations areas...Read this article...
Influencer marketing has become the fastest growing advertising activity in recent years and an important tool for communicating with the target public. According to Forbes, the number of digital campaigns with the influencers doubled in 2018.As many as 93% of these campaigns took place on Instagram. And if individuals with...Read this article...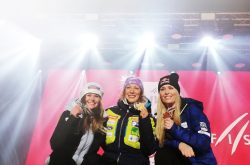 We often hear that top athletes, the biggest champions, are special people. It's hard to understand why; they seem humanly on the outside just like everyone else. Well, some of them more than the others, but in the end, they are all only human. Attending the World Alpine Skiing Championship...Read this article...